We Take Your Marketing Ideas From
Concept to Completion in Three Easy Steps
ABLE Virtual Services – Marketing Strategy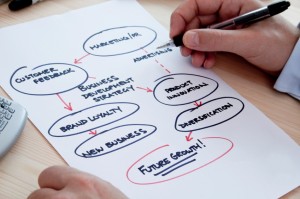 Step #1 – The Business Review
Step #2 – The Strategy Plan
Step #3 – Implementation Support
---
Step #1 is the preparation of a written analysis of where you are at now. It includes a review of:
Your current business services, your product offerings and your current marketing strategies
Your current target market including creation of your marketing avatar
Your "competition" including looking at strengths, weaknesses, opportunities and threats
Step #2 takes the information obtained in Step #1 and creates a strategy plan with clear and concise written action steps for the implementation of:
Your current service/product offerings
Your current concepts and ideas for future info-programs/products and services
Our suggestions for future programs/products and services to enhance your business
Step #3 On-going support is then provided to ensure that you stay on track with your marketing plan and strategies. Unlike other programs, we will hold your hand to ensure you truly move from CONCEPT TO COMPLETION.
At this point the choice is yours … take the plan and implement it yourself or have our highly skilled team provide the implementation for you!!
For more information on our VA service packages, please visit our VA services page.
Contact us today for your free 15 minute consultation to find out more about how having a Marketing Master Plan will ensure you move from CONCEPT to COMPLETION.