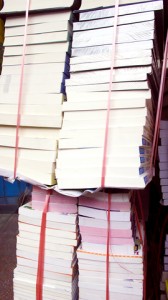 If you are anything like me, you probably have a shelf full of information products that you had really great intentions on implementing. Somehow though life seems to get in the way and we never quite find the time to truly do anything about the vast amounts of knowledge just waiting on our shelves.
Why is it then that we continue to purchase new information products? The latest, the greatest, then next big thing your business cannot succeed without?
The answer is quite plain and simple … we are in pursuit of our dreams, we are hoping, wishing and praying that success will find us. The problem is we are actually the ones that need to go find the success.
I 100% believe that the reason many of us don't find the success we desire comes down to one very simple answer … ACTION!! If we don't take action nothing can ever come from all of those books simply collecting dust.
So here is my question and my challenge to you …
In the next seven days is there just one thing you can do to take action on one of those dust collecting books? Take the time to dive into one of those books and create a plan … make your dreams a reality and take ACTION!!
Oh, and don't forget to share here what action you plan to take this week. When we write down our goals it entices us to actually take the ACTIONs that we say that we will take.
So next time before you purchase a new information product make a pledge to yourself to keep it off the shelf and do everything in your power to implement what you learn!!